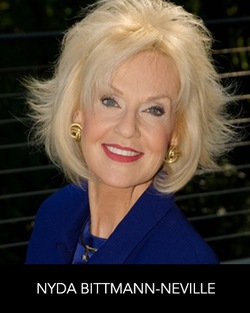 P. 828-246-4525
Nyda Bittmann-Neville is CEO and founder of TNB Consulting Group, Inc. a global organization specializing in creative innovative, critical assessment, and tactical execution. She specializes in the areas of brand, image marketing, and communications. The approach is to design, develop, and execute consistency from both an internal and external perspective.
The twenty-five-year-old firm has created, designed and implemented customized marketing strategies for clients within the U. S., Canada, and Australia. These programs have established cultures and protocol within organizations that have resulted in their communicating effectively, marketing persuasively, and projecting themselves professionally.
Nyda is a strategic consultant, executive coach, and a nationally sought after professional speaker. She is also an author in Becoming a Professional Woman and On Stage! Image, Etiquette, Branding, and Style. Nyda is the host of The Magnolia, a show that is dedicated to image, brand and business culture.
Nyda has a diverse professional background spanning more than 25 years. She has held numerous senior level positions including marketing, business development, public and community relations, training and sales. Formerly Senior Marketing Strategist for Barnett Banks, Inc. Florida and Executive Marketing Director for Asheville Savings Bank, Nyda developed marketing strategies to further enhance their positions in the marketplace: to attract, build and enhance relationships, and increase profitability.
Her innovative solutions have been implemented in the industries of finance, insurance, travel, health, high-tech, law, construction, education, hospitality, manufacturing, retail, and government.
A Florida Southern graduate, Bittmann-Neville received a bachelor's degree in Marketing and Business Administration. She serves as immediate past board chair of Haywood County Chamber, Vice Chair of Haywood Community College Foundation, and board member of The Fund for Haywood County, an affiliate of The Community Foundation of Western North Carolina. Nyda has been honored by the Haywood Chamber as Volunteer of the Year and received the prestigious Woman of the Year from the Daytona Beach Executive Women's Council. She now serves on the Program and Event Committees of the Lakewood Ranch Business Alliance.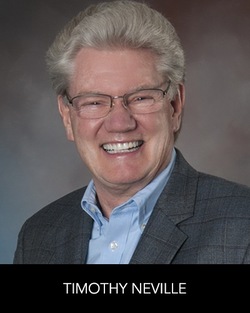 P. 941-704-5690
Timothy Neville will utilize his expertise as an ambitious leader and create strategic alliances and collaboration across a wide spectrum of entities. These include his clients, other consultants, vendors, leaders, and managers to effectively originate, align with and support key business initiatives. As an experienced executive, he will achieve quality results. He delivers broad-based strategic thinking in concert with pragmatic implementation of products, services, policies, procedures, and practices. He is as well a designer and implementer of innovative and comprehensive re-engineering processes.
Neville recently retired as an executive level banking leader, manager, strategist, credit officer, and lender with diversified experience in lending, sales, credit policy, loan administration, problem asset resolution, and strategic development and implementation in the banking industry. He has held national and regional executive positions.
He now wants to share his expertise, passion, skills, talents and experience to help corporations and businesses achieve their strategic goals. Tim provides clarity of vision, comprehensive direction, and consistent motivation while fostering and enhancing a strong corporate culture, professionalism, functional credibility, and desired achievement.
Neville's education includes a B.B.A. in Management from the University of Cincinnati, M. B. A. in Finance from Xavier University and attended Salmon P. Chase College of Law at Northern Kentucky University. He enjoys giving of his time and talents to nonprofit organizations, loves to travel and experience new adventures, riding his Harley and driving his '65' Corvette Stingray.