Executive Coaching
Why hire a coach?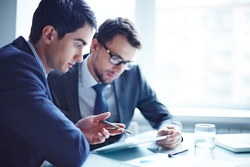 Just as a coach is hired in tennis or golf, and executive coach is hired for the same reasons. A coach will provide the structure, encouragement, skills, and accountability that will facilitate the desired outcome.
Executive Coaching is personalized one-on-one assistance designed to help you achieve important improvements or changes in your personal and/or professional life. Our coaching utilizes these steps:
Identify areas of desired improvement, enhancement or change
Define desired results
Set realistic goals
Acquire new skills (if necessary)
Receive guidance and support
Realize the improvement and assess the results
Executive Coaching accents the positive and helps you to discover and more fully utilize your strengths so that you can make the changes that are important to you.
Successful coaching is built around a solid working relationship between client and coach. The first step is to speak and /or meet personally to determine if there is a fit. If both the coach and client agree, then the next step is to commit to a timeframe. Each coaching situation is different and the number of sessions will be determined to best suit the client needs.
Coaching is also very confidential. No information about the client will be shared with anyone without your permission.
As one of my clients said recently, "You have helped me achieve my goals when I have not been able to do so on my own".