Personal Image and Brand Audits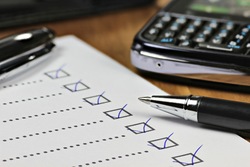 Project the image that marks a professional…a catalyst…a leader…a winner by establishing your personal brand. Every person, place, and thing has an image. This is the external image that is displayed and others can see and hear it. Brand, on the other hand, is the experience or interaction that someone has with a person, place, company etc.
How a person projects his or her image and brand is controllable and manageable. What you cannot control is how someone is going to react. An audit includes at a minimum the following:
A listing of what the person thinks are their image attributes and busters.
We explore the way the person communicates, including voice, body language, vocabulary, eye contact, listening, promptness, telephone etiquette.
Communication is expanded to focus on a person's style of communication. Understanding one's own style, that of others, and how to respond is critical to establishing a strong image and brand.
How someone presents their thoughts and ideas to a single individual or any size group is also explored (and may involve videotaping for review/instruction)
Appearance and the selection of clothes is a personal choice; however, a change can make a huge difference and enhancement of image and brand. Additionally, we explore attitude as this is yet another controllable and manageable attribute.
Networking and meeting people is also a display of one's image and brand. In the business world, a person needs to have a professional handshake, know how to make appropriate introductions, have knowledge of manners and etiquette, and have a solid 30-second commercial.
The last component is visibility. One needs PIE or Performance, Image, and Exposure in order to achieve their business/career goals. One must have a solid performance in their work, the appropriate image displayed and exposure to the right people, teams, management etc. We explore how to capture one's accomplishments and elevate them at the right time and to the right people. We also point out how to create a portfolio that will be there when you need it…someone asks you to send them your resume' as a new position just opened and they think you would be the right fit. You will not need to panic as you will have the portfolio which will provide all the information necessary to create or update your resume quickly.
Personal image and brand audits should be performed periodically as one changes over time. You want to be at your best as you continue through life's journey.